From the Payroll Setup page, you can manage the following:
Payroll Groups

Payroll Systems
What is a Payroll Group (aka Pay Group)
A payroll group is a grouping of employees who are paid on the same pay frequency and schedule and/or using the same payroll system.
If you have different groups of employees who are paid on different schedules, different frequencies or via a different payroll system, then you will use payroll groups to differentiate those within ProgramPay.
Setting up Pay Groups during the ProgramPay Onboarding
The very first time you log in to ProgramPay, you will walk through the onboarding process, where you will be prompted to setup each of your pay group(s). For instructions about the onboarding process, click here.
Maintaining Payroll Groups
If you need to add or edit pay groups after the initial onboarding, you will do that from the Contributions dashboard by clicking on the "Gear" icon to the right of the next pay date box.

From there, you will be brought to the Payroll Setup page. This page displays the payroll system you use (if any), the plan's pay frequency.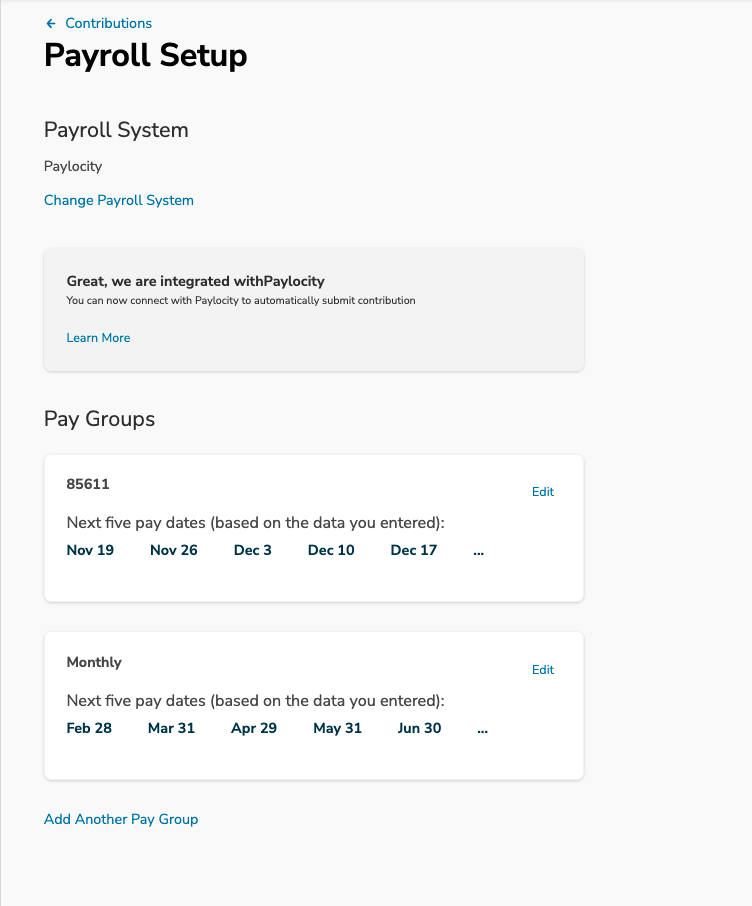 Reviewing or Editing an Existing Payroll Group
To make changes to an existing Pay Group, select the "Edit" button in the upper right corner of the pay schedule box.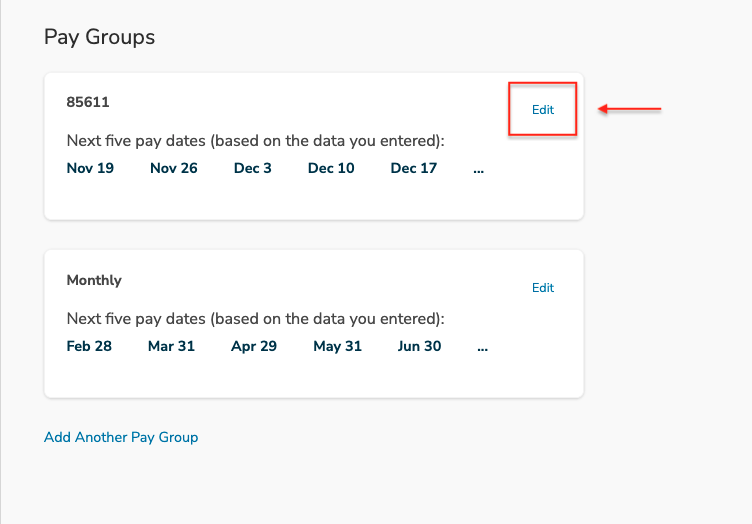 The first section will allow you to change name or title to the pay group and select the pay schedule frequency.
ProgramPay supports the following pay date frequency types:
Every Week

: (52 pay periods) - You will be asked to select the day of the week for processing your payroll.

Every 2 Weeks:

(26 pay periods) - You will be asked to select the day of the week for processing your payroll. Then you will be asked to select between two dates as your first pay date.

Once a Month (Last Day):

(12 pay periods) - The pay day is defaulted to the last calendar day of each month.

Once a Month (Special Date):

(12 pay periods) - Select this frequency if you have a monthly pay schedule and you do NOT pay on the last day of the month. You will be asked to enter your next payroll date.

Twice a Month (15th & Last Day):

(24 pay periods) - Only select this frequency if your pay dates are the 15th and last calendar day of the month.

Twice a Month (Specific Dates):

(24 pay periods) - Use this frequency if you have 2 pay dates per month, but on a schedule that is different from the 15th and last calendar day of the month. You will be asked to provide the dates of your next two pay days.

No Regular Schedule - If you don't pay your plan participants on any set schedule, select this option. You will be able to run off-cycle contributions whenever needed, but no regular pay schedule will be created.
Once you have completed editing the pay group's details, select "Save Pay Schedule".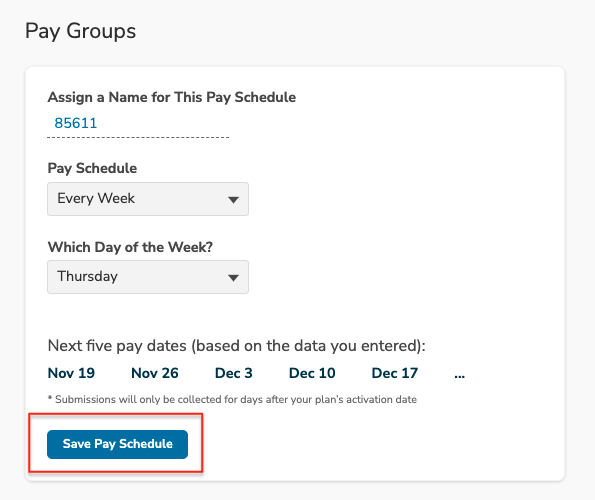 Adding New Pay Groups
To add an additional pay group, select the blue "Add Another Pay Group" button at the bottom.
Step 1 - Name the new Pay Group - Any name is fine. If you have two or more payroll groups, choose a name that will easily differentiate between them
Step 2 - Indicate the Pay Date Frequency
Step 3 - If prompted, answer any clarifying questions regarding the pay frequency
Step 4 - Click the "Save Pay Schedule" button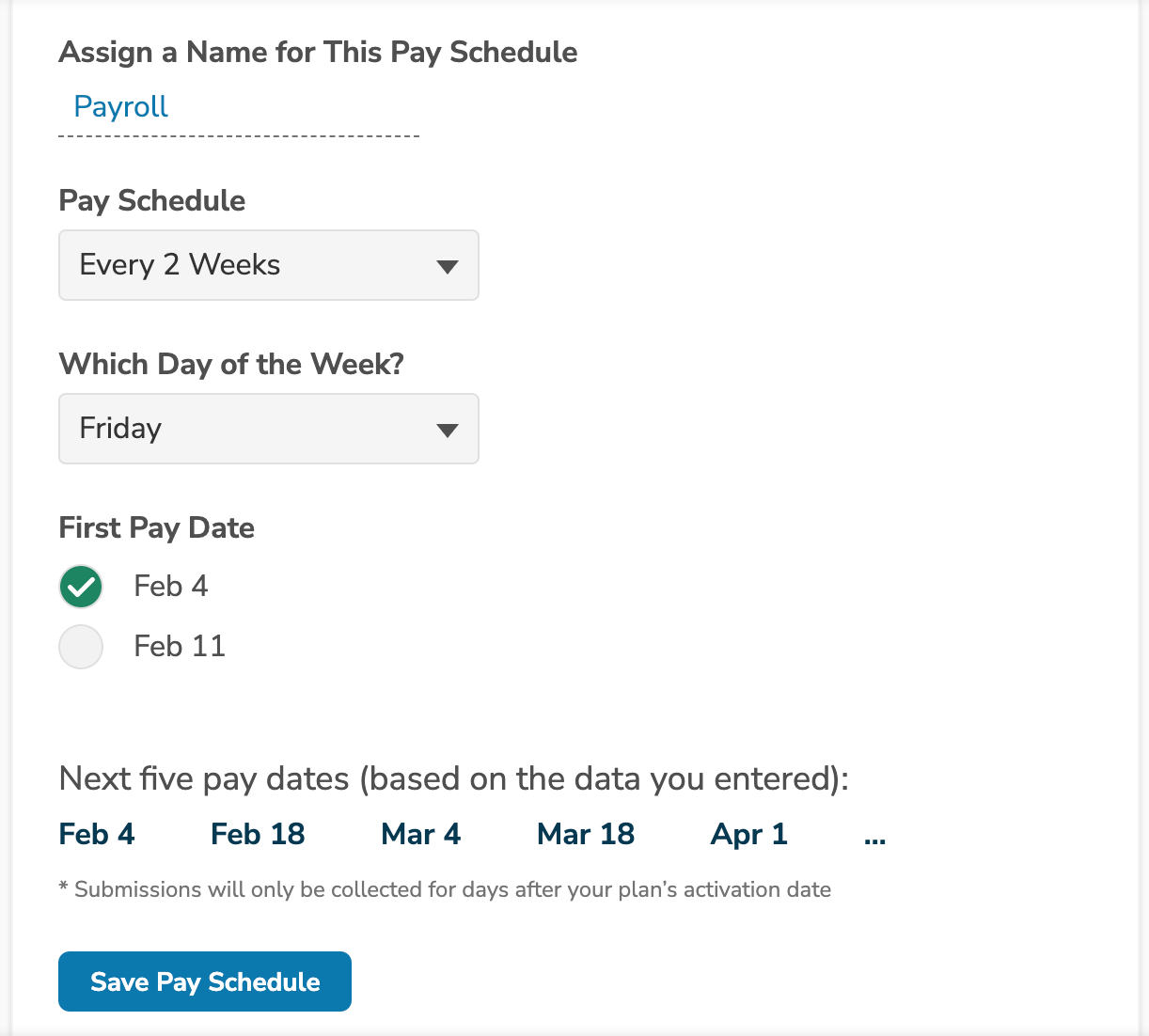 Deleting a Pay Group
The "Remove" button in the corner of the pay group can be used to delete the pay group if it is no longer active.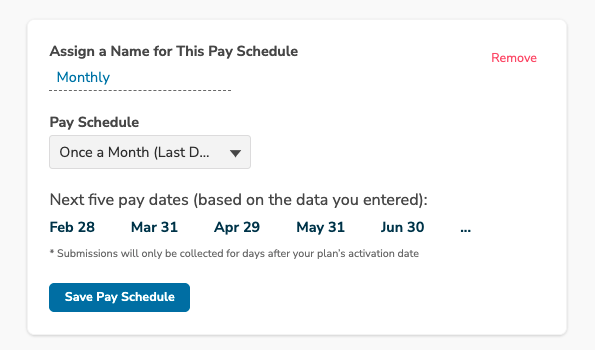 Please note: you are required to maintain at least one (1) payroll group.
What if I have a Payroll Integration?
If your plan is setup for Payroll Integration you will be restricted from certain actions related to Payroll Groups setup and maintenance.
You will be restricted from changing the name of your pay group. You'll notice a lock () to indicate that the record is locked from editing within the portal. Any change in payroll group name needs to be coordinated to include both a change in your payroll system and in ProgramPay to ensure contributions continue to feed without interruption.





You will not be able to add new Payroll Groups in the portal. Any addition of a Pay group must be coordinated to include both your payroll system and ProgramPay to ensure contributions in the new payroll group process correctly.






To accomplish either of these actions, please contact us for assistance.

Maintaining Payroll Provider
If you change your payroll provider, you can update that information from the Pay Groups page.
Click on "Change Payroll System"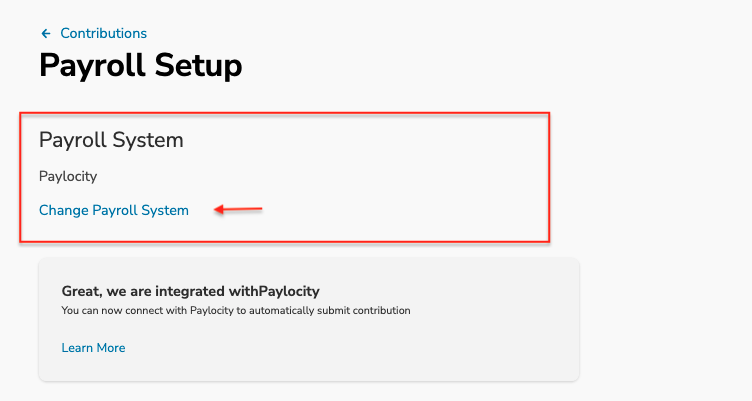 Select your payroll provider from the drop down list and click on the "Update" to save the change.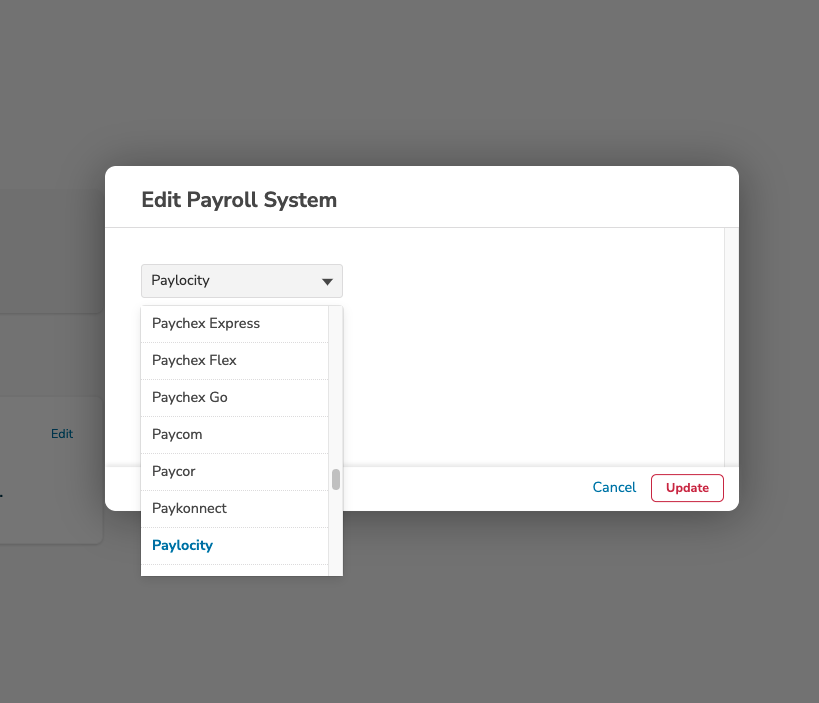 Payroll providers are listed in alphabetical order.
If you do not have a payroll system, select

None/Proprietary

If your payroll system is not in the list, select

Other

and type in the name of your payroll provider in the text box.
If we offer integration between ProgramPay and your payroll system, you will see that noted here, including a link to instructions on how to setup the payroll integration, and your ongoing responsibilties.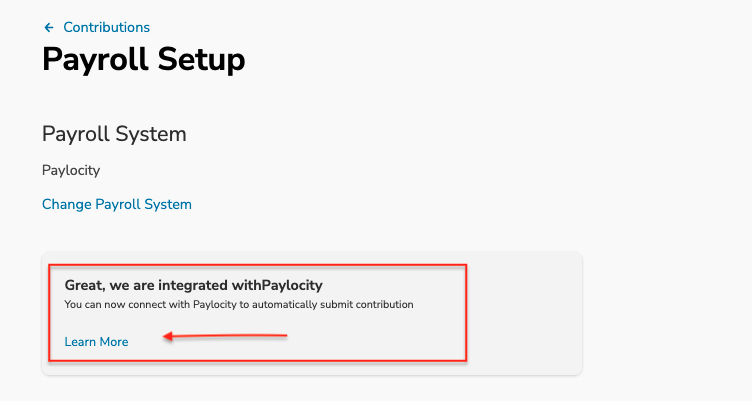 IMPORTANT NOTE: If you have a payroll integration setup between your current payroll provider and you are transitioning to a new payroll provider, do not update your payroll provider here. Instead, please email us at contactus@abaretirement.com to coordinate on the date to shut off the integration, and if available, help setup integration with your new provider. Advance notice is requested. To check to see if your provider has integration with ProgramPay, click here.
Need help?
Please contact: contactus@abaretirement.com for further assistance.