For plans where there is just one participant, ProgramPay offers an Auto-Submission feature. Typically this feature will be used by a firm with a sole practitioner.
The Auto-Submission feature allows the plan sponsor to setup a recurring employee contribution which ProgramPay will submit automatically at set intervals.
Setting up this feature, allows you to ensure regular contributions to your retirement plan without the need to manage those contributions manually. With Auto-Submission, you can setup your contribution rates for the year all in one step.
To setup Auto-Submission, select the Gear from Contributions Dashboard.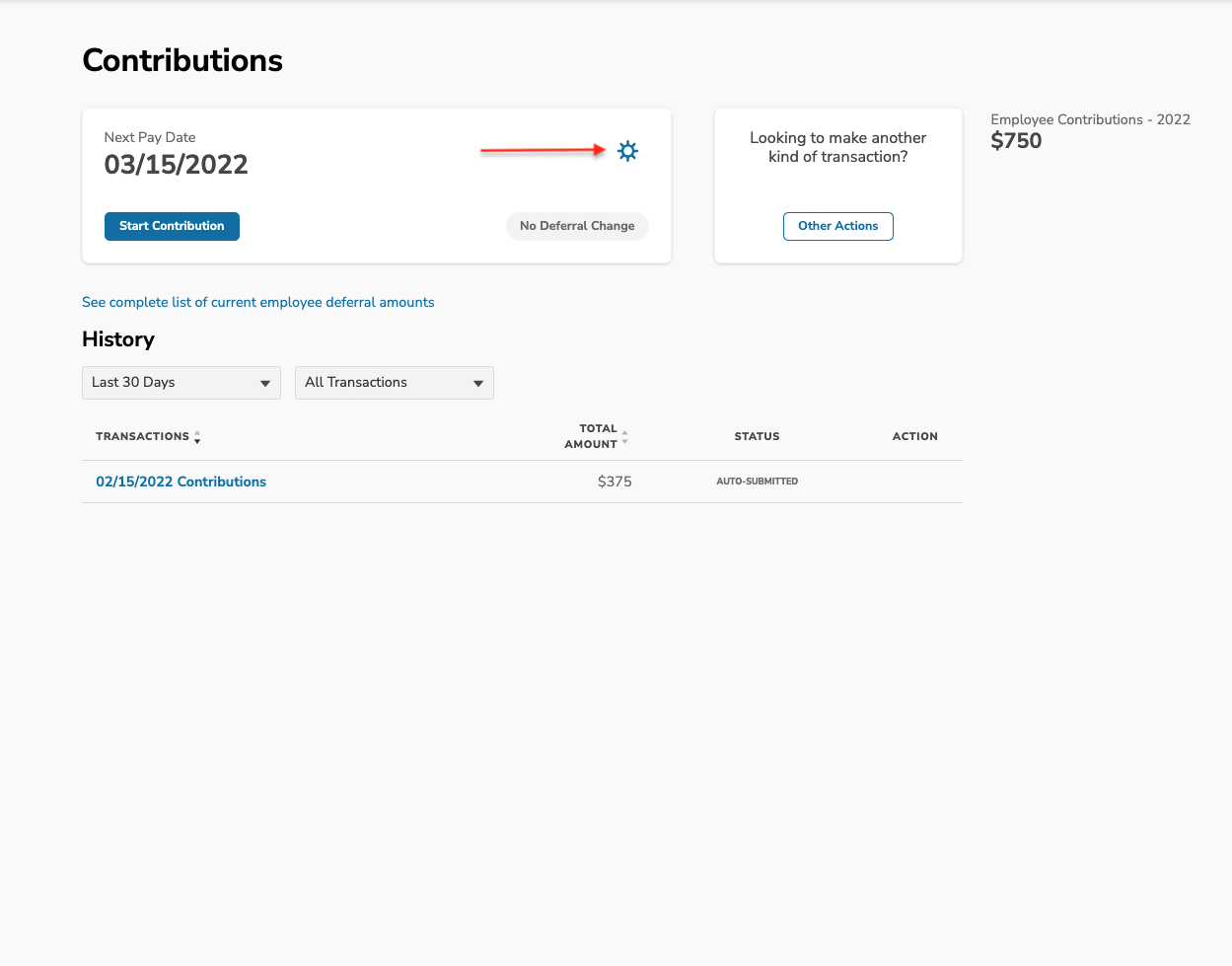 You will be brought to the Payroll Setup page, where you can setup Auto-Submission as well as setup and maintain Payroll Groups. By default, Auto-Submission will be set to "Manual Submit"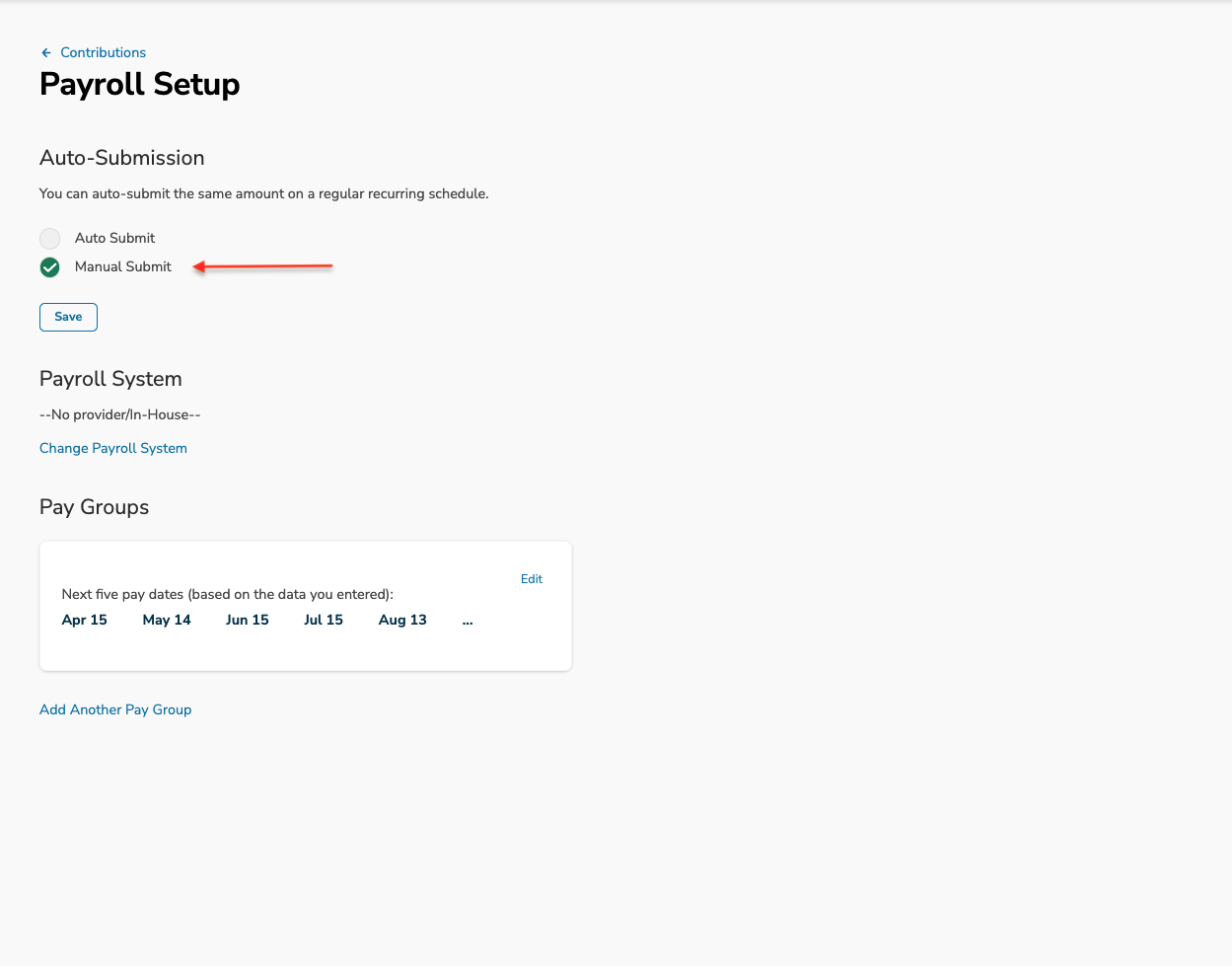 To configure an auto-submission, select "Auto-Submit" and click the Save button to begin.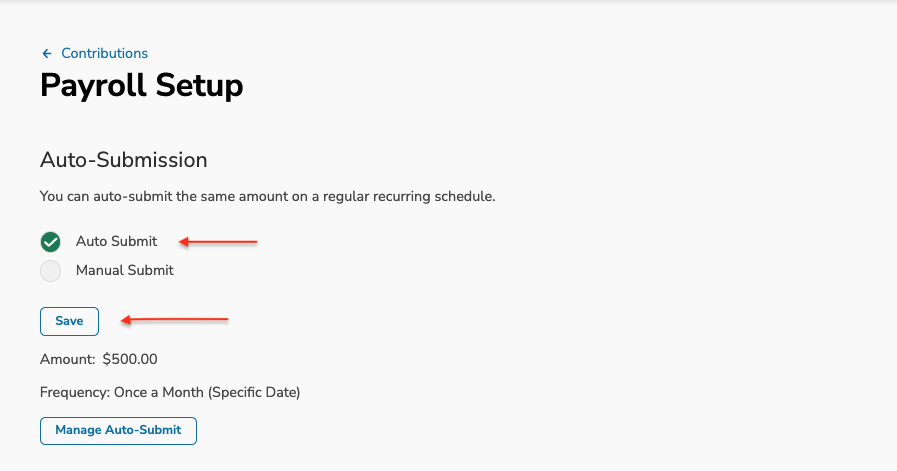 An expanded view will appear that will show you the amount and frequency of any existing auto-submission, if available. Click the Manage Auto-Submit button to proceed.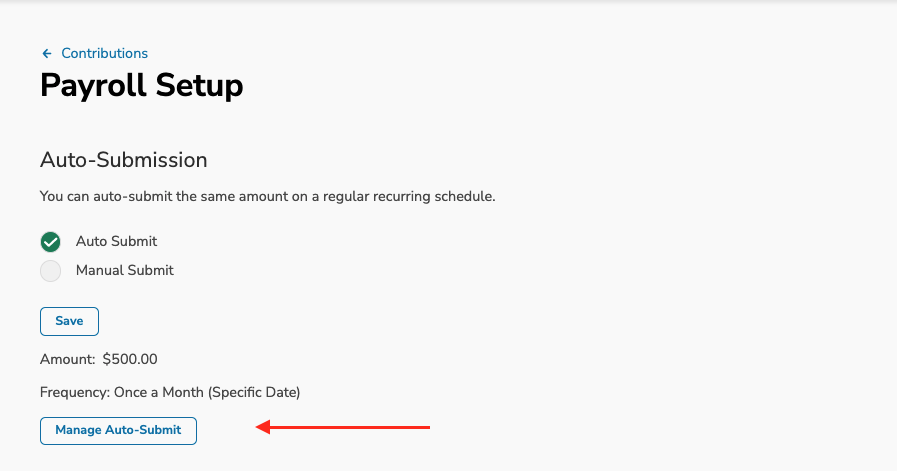 Please note: The Frequency that appears will be the Pay Frequency selected during the ProgramPay registration process. You will have the opportunity to change this frequency in a later step.
Next, you will be presented with the Manage Auto-Submit page.
This page has two key features; 1) Managing Auto-Submit settings; and 2) Employee Contribution Calculator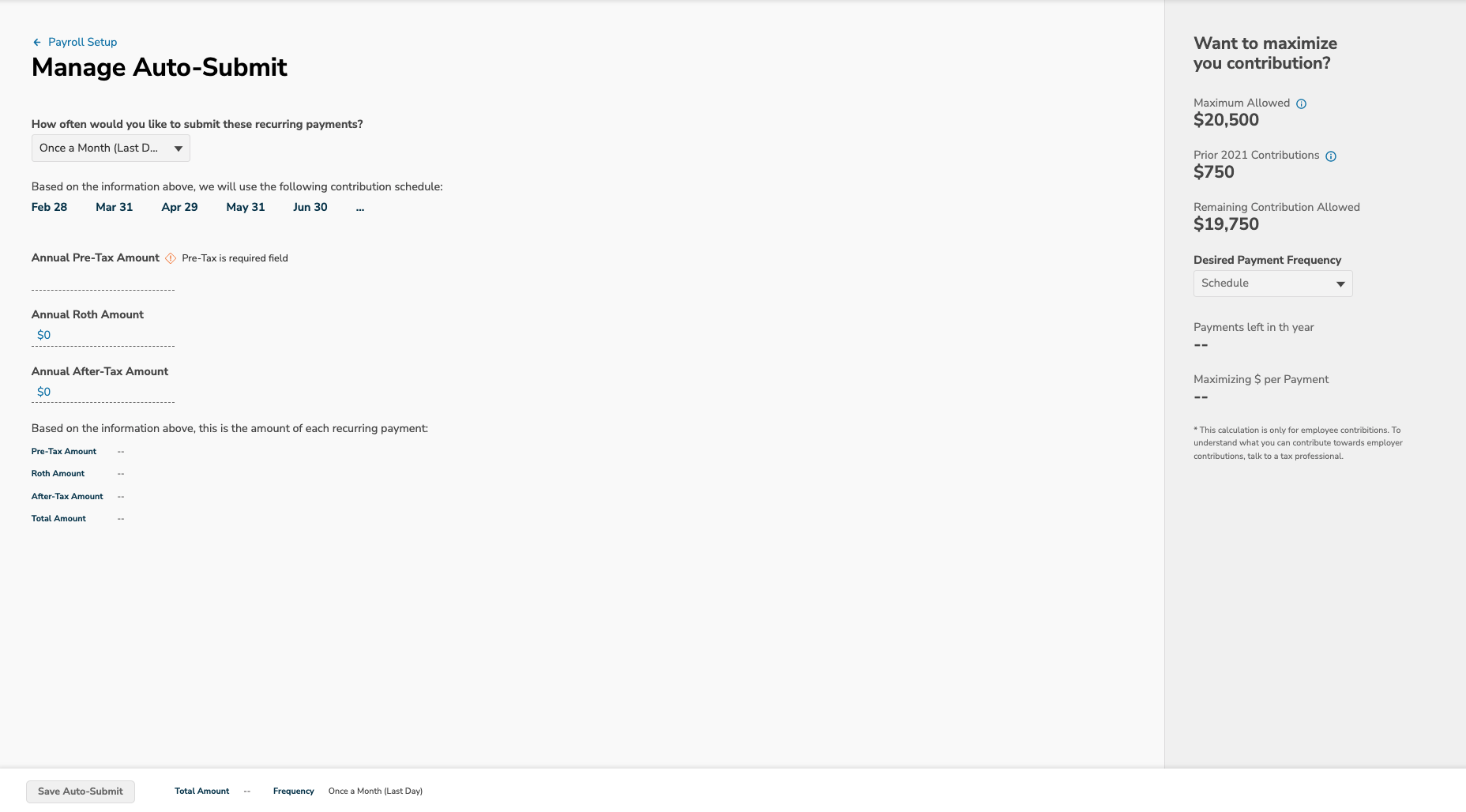 Follow the steps to set up your auto-submission.
First, select the desired frequency of the recurring payments from the drop down, and answer any related questions. See more details about the frequency options here.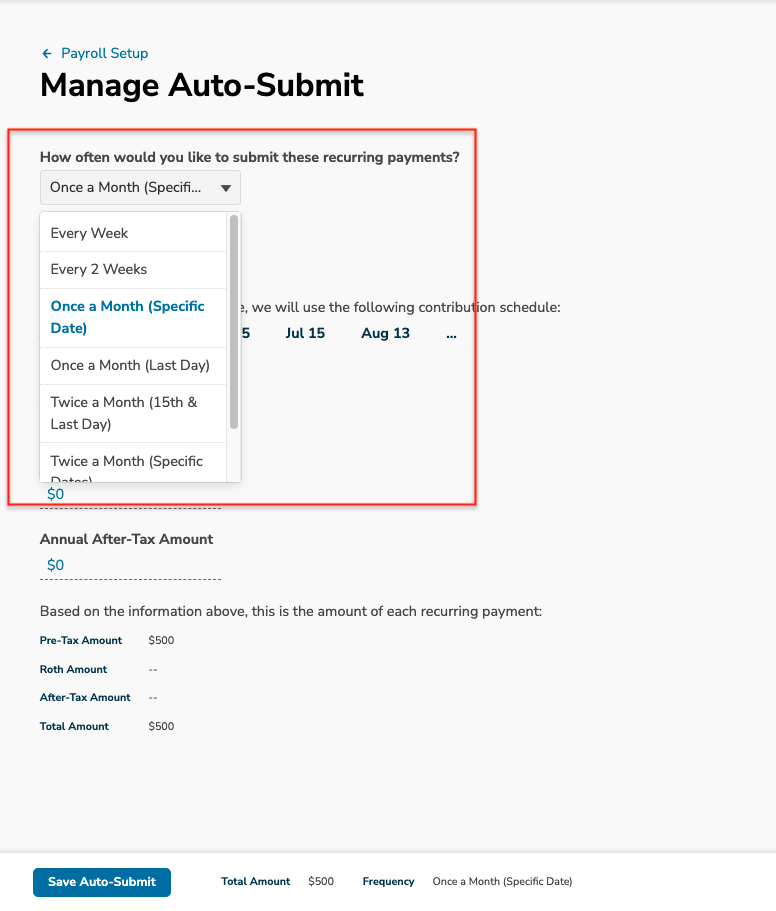 Once you enter your frequency, ProgramPay presents the next 5 contribution dates. Change the frequency selection to change the contribution dates.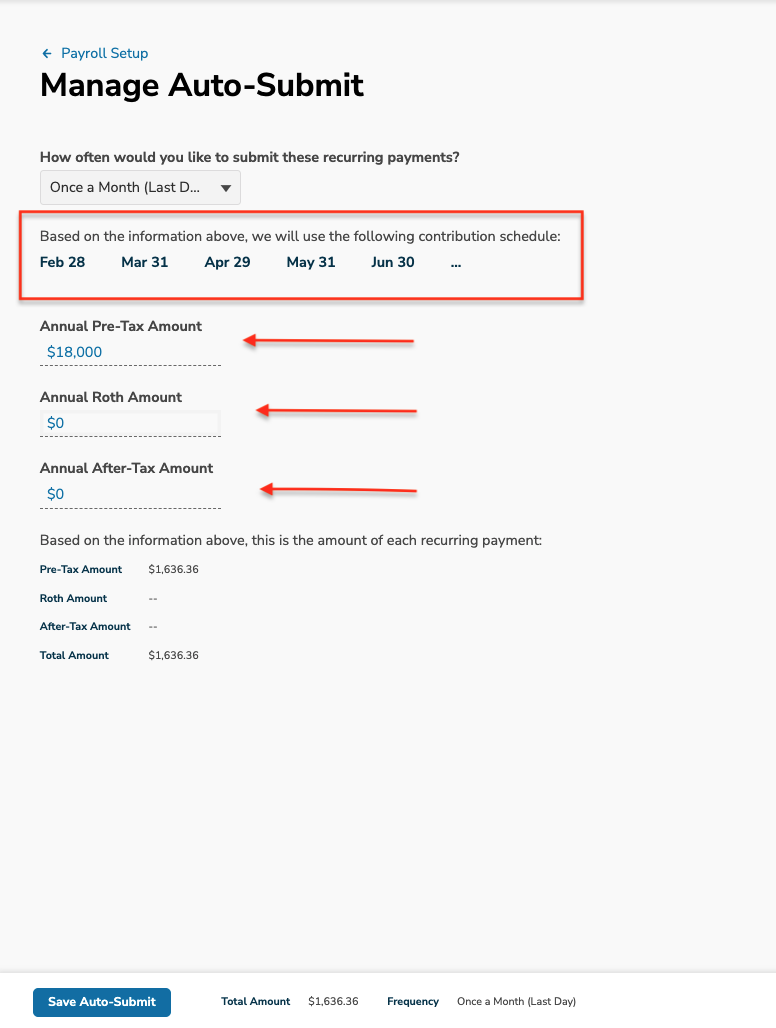 Next, enter your desired ANNUAL contribution amounts, selecting your desired combination of Pre-Tax, Roth and/or After-Tax amounts, up to the annual contribution limits. Please note, available contribution sources are driven by plan rules.
Once the annual amounts are entered, ProgramPay will calculate and display your periodic payments.
You can adjust the periodic payment by adjusting your frequency or the annual contribution amounts. If you enter an amount outside the allowable contribution limits, you will see an on-screen error message and the Save Auto-Submit button will be greyed out.
Once you've completed the Auto-Submission to your satisfaction, click on Save Auto-Submit.
You will then be returned to the Payroll Setup page where your auto-submission settings will be displayed.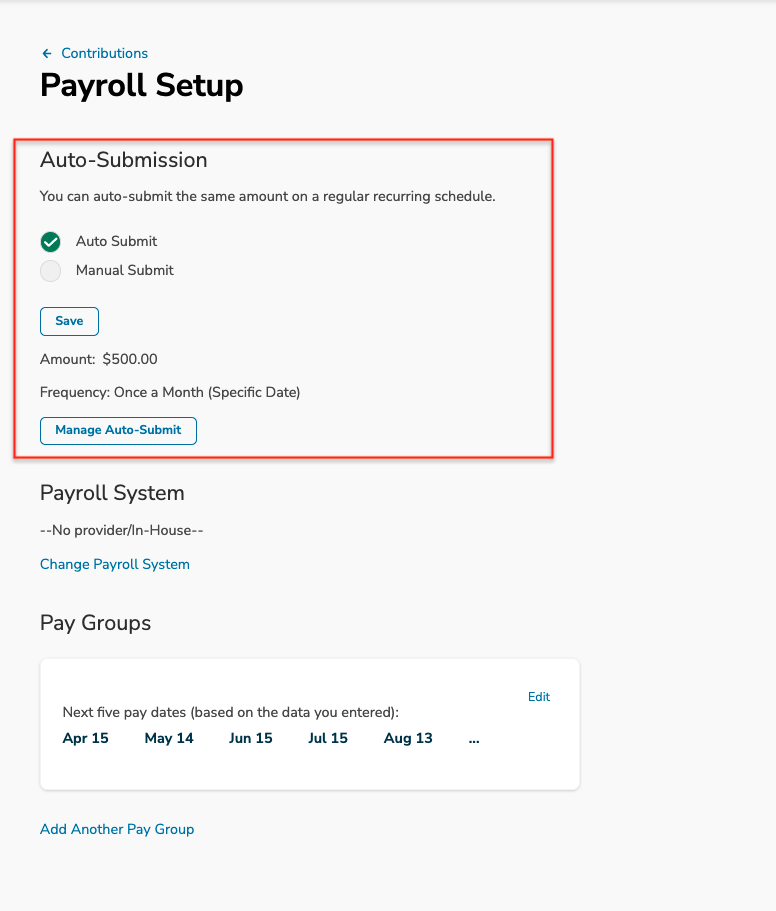 Please note: This feature is only available for plans with one (1) participant. If you are subscribed and your plan adds a second participant, the auto-submission will be disabled.
If you are not sure how much to contribute, the calculator may be able to help, otherwise, consider consulting with a tax professional.